About Us
"I originally created this soap recipe to help soothe my dry cracked skin and it turned out that our goat milk soap has helped our entire family's skin become more hydrated, soft, healthy. I didn't want plain soaps, so I created some fun, vibrant, and unique soaps that were not only good for my skin but were uplifting and made me smile. All of our soaps are made with milk from our own herd of Nigerian dwarf goats." Jamie, Owner and Head Soap Maker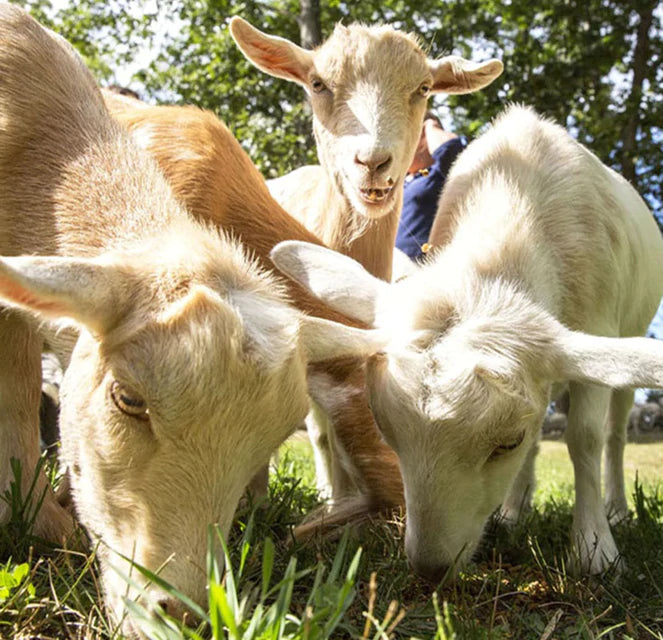 Made with fresh goat milk and all natural ingredients that will leave your skin moisturized and healthy. All of our Goat Milk Soap Bars contain 22% All Natural Goat Milk from our own herd of Nigerian Dwarf Goats. Nourishing your skin starts with our Goat Milk Soaps, but the benefits don't end there. Goat Milk Lotions to Goat Milk Lip Balms, Liquid Goat Milk Hand Soap to Goat Milk Bath Bombs and Bubble Scoops and everything in between, we at Whitetail Lane Farm offer all the Goat Milk Skin care products you need.
Shop all our products Now
September Soap of the Month
Cowboy: Imagine a sexy, manly cowboy smell mixed citrus, bergamot, sea salt and amber wood all on a bed of cedarwood and exotic musk
All of our soaps are specially formulated to produce a mild and luxuriously creamy lather that won't over-strip your skin of it's natural and beneficial oils. It's the only thing our family uses!
Felted Goat Milk Soap Bar
A cleansing and exfoliating washcloth and GOAT MILK SOAP all in one! Felted soap is simply a bar of our goat milk soap wrapped in wool roving. The wool is naturally antimicrobial and makes the soap less slippery. As you use the soap, suds come right through and the wool will continue to felt around the bar of soap. It's gently exfoliating and can replace a washcloth or bath pouf in the shower. 
Testimonials
I am very happy with the Goat Milk Skin Cream. Keeps my hands so soft. I also purchased the soap and I will be ordering more. The soap has a very light clean scent and feels so good on my skin. I'm very happy with the products I ordered.
Joan J.
Creamy lather, nice scent. I purchased these soaps as gifts. They arrived very quickly and just as shown in the pictures. The recipients love the look of the soaps and are pleased by the creaminess and pleasing scents.
Sue O.
I found this lip balm last summer at the People's Choice festival & just bought it on a whim. I'm SO glad that I tried it. It's my favorite lip balm ever. I have many of my friends hooked on it too. The scent/ flavor is great & not too strong & the texture is soft & silky!
Tracy R.