Soap Accessories
If you're looking to get the most out of your Goat Milk Soap bars, our Soap Accessories are here for you! With two kinds of Soap Dishes and a Soap Saver Mesh Pouch, you can extend the life of your Goat Milk Soap bars by keeping them fresh, dry, and well-ventilated between uses. Say goodbye to soggy soap bars, and get ready for a pleasant washing experience every single time!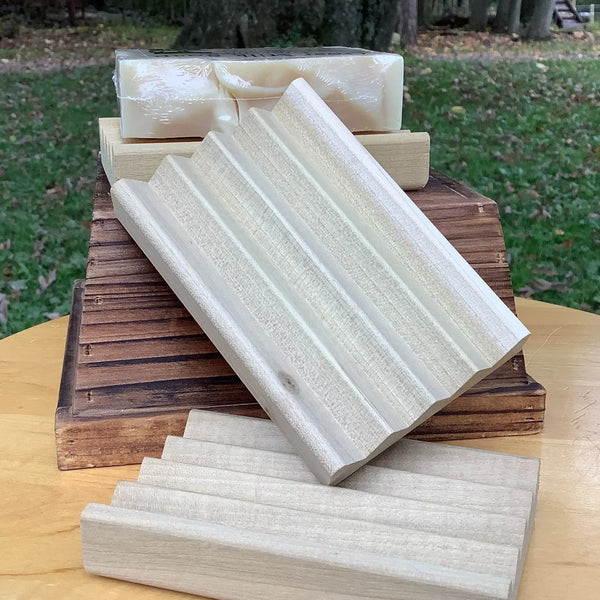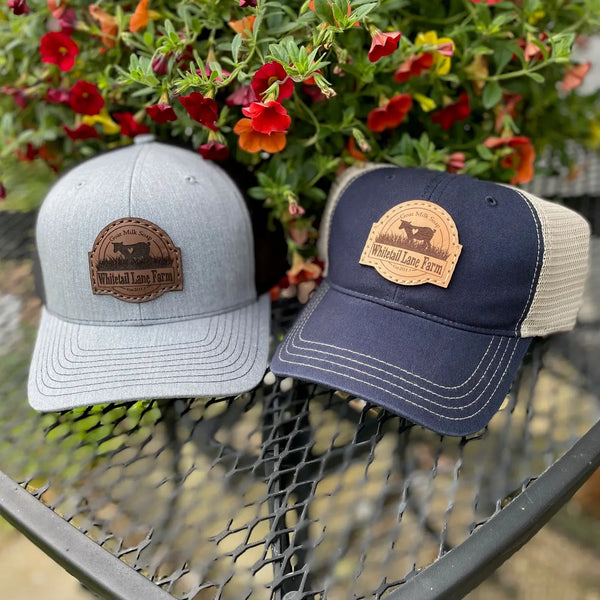 Natural Wood Soap Dishes
We have two kinds of soap dish accessories for your Goat Milk Soap bars: cedar and poplar. Since we use natural woods to create these soap dishes, there may be differences among them from natural elements in the wood, such as knots. As long as these elements do not affect the structural integrity of the dish, we leave them and let the elements accentuate the design and highlight the natural beauty of the wood.
Our handcrafted Cedar Soap Dish is ventilated and raised to facilitate maximum airflow around your Goat Milk Soap bar. This allows it to thoroughly dry between uses to extend the life of the soap. This is an attractive soap dish with a rustic design. Our favorite feature of this soap dish is that when the cedar gets wet from the used soap bar it gives off the warm, delicious scent of fresh cedar wood.
Our Poplar Boardwalk Soap Dish has wide-angled channels that allow the water to drain quickly away from your used soap bar—which will extend the life of your soap. It has a minimal surface area to minimize soap sticking, making it easier to lift up for the next wash. Each Poplar Boardwalk Soap Dish has been meticulously hand-sanded on all edges, creating a soft, elegant look and feel.
Super Saver Exfoliating Mesh Pouch
The Soap Saver Exfoliating Mesh Pouch is convenient and easy to use. Slip a Goat Milk Soap bar inside the cylindrical-shaped mesh pouch and use the spring loaded stopper on the adjustable drawstring to secure the soap from slipping out. Get the soap and mesh pouch wet and wash away! When you're done washing, hang the pouch by the drawstring in your shower, bathtub, or sink to dry. This allows it to dry thoroughly and extend the life of your soap.
Mesh soap pouches are a great way to exfoliate your skin to remove dull, dry, dead skin cells, revealing fresher, brighter, and more youthful skin. The exfoliating mesh also helps remove stubborn dirt and oisl that gentler washing may not be able to remove completely.
How To Make Your Goat Milk Soap Last Even Longer
When bar soap of any kind gets soggy, it reduces the soap's lifespan (or number of washes you can get from the bar). So, to get the most washes out of your Goat Milk Soaps, don't let them sit on wet shower shelves or in soap dishes with poor drainage. Your Goat Milk Soap bars can usually last for 50 or more washes when well-cared for!
Here are a few more tips to extend the life of your Goat Milk Soaps:
Use smaller pieces:

Cut your bar in half. Use one half until it's gone, then use the second half. Some people actually prefer the smaller size, especially for children.

Let it dry:

Let the soap dry between uses. The more thoroughly your bar dries between uses, the longer it will last.

Lower the heat:

Hot water dissolves soap faster. If you want to extend the life of your bar, use cooler water.

Know your water quality:

Softer water allows soap to lather more quickly, requiring less friction. If you have harder water, you might notice that you go through soap bars a little faster.
Goat Milk Soap Has a Long Shelf Life
We make our soap with the highest possible concentration of fresh Goat Milk, produced from our own herd of Nigerian Dwarf Goats here on Whitetail Lane Farm. We cure our soaps for a full 5-6 weeks to ensure their longevity. Our soaps stay fresh for many years! And while the smell may begin to fade after about nine to twelve months, the soap itself will not "go bad."