Goat Milk Nourishing Skin Care Gift Baskets & Bulk Sets
Give the gift of all-natural Goat Milk Skin Care Products from Whitetail Lane Farm! Our Gift Baskets are also a great way for you to sample a variety of our different Goat Milk Skin Care Products. Goat Milk Gift Baskets are carefully curated to offer a special selection of delicious, luxurious Goat Milk Skin Care Products.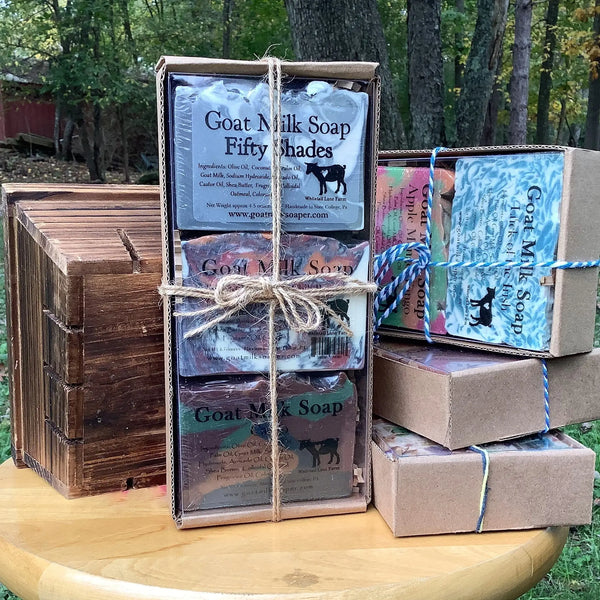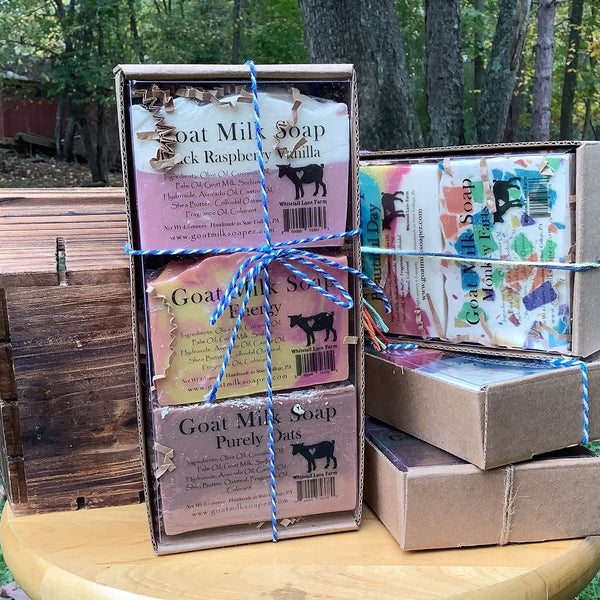 Goat Milk Skin Care Products Make Great Gifts
Perhaps you've fallen in love with our Skin Care Products. Perhaps you need a gift that is fun but useful. Maybe you want to treat somebody who also appreciates all-natural Skin Care Products. Whatever your gift-giving occasion, you'll find something just right among our Goat Milk Gift Baskets, Variety Packs, and Subscriptions. And you'll feel good knowing that the gift you're giving is packed with all of the incredible, skin-nourishing benefits of fresh Goat Milk! 
Goat Milk Gift Baskets For Every Occasion 
Goat Milk Gift Baskets make a great gift for every occasion. Goat Milk Skin Care Products are 100% all-natural, toxin-free, and safe for all ages, making them an excellent choice no matter who you are shopping for. Items from our gift baskets make great party favors! Our Gift Baskets and Bundles also make great prizes for raffles and fundraisers at your school, work, or community events. Whether you're shopping for a friend, coworker, family member, or for a thank you gift, our Gift Baskets are sure to please. Here are some occasions when you might want to give a Goat Milk Gift Basket:
Birthdays

Mother's Day & Father's Day Gift

House Warming & Host/Hostess Gift

Thank You Gift

Thinking of You Gift

Baby Showers/New Parent Gift

Bridal Showers, Weddings, Anniversaries

Teacher or School Staff Thank You Gift

Stocking Stuffers & Secret Santa Gift

Valentine's Day

Seasonal Holidays
Curated Goat Milk Gift Baskets
Goat Milk Gift Baskets are available in many options. We have gifts just for her, gifts just for him, maker's choice collections, and baskets composed of all unscented products (perfect for those with sensitive skin). 
When you aren't certain which scent to choose, let us pick for you with the "Surprise Me!" gift basket option, choose one of our "Odds and Ends Grab Bags," or purchase our popular "Mystery Box." 
Some of our most well-loved scents have their own bundles as well, including Vanilla Fig, Lavender, Oat Milk and Honey, Black Raspberry Vanilla, Sea Salt and Lily, and Cucumber Melon. Holiday scented soaps and lotions are also bundled for effortless, yet thoughtful, seasonal holiday gift giving.
Your Favorite Goat Milk Skin Care Products
Devoted to our Goat Milk Lotions? Obsessed with our Bath Bombs, Soaps, or Bubble Scoops? Our Variety Packs are the perfect way to stock up on your favorite WhiteTail Lane Farm Skin Care Products. These bundles are a great way to try your favorite products in a variety of scents. We have Variety Packs of our signature Goat Milk Soap bars, Bubble Scoops, Bath Bombs, and Bath Bomb Minis. We also have a travel-sized Goat Milk Lotion Variety Pack that is perfect for moisturizing on-the-go. Variety Packs make great gifts as well!
Gift Cards And Goat Milk Soap Subscriptions
Sometimes you want to give a gift but just aren't sure what to choose. Or, maybe you want to give the gift that keeps on giving. Whitetail Lane Farm offers several options for Goat Milk Soap subscriptions. You can choose from a 6 month, 12 month, or continuous Soap of the Month Club. And if you want to give a Gift Card to the Whitetail Lane Farm store, we've got you covered! Our gift cards have no processing fees and no expiration date.